Next Tuesday, 12th, February, it is
Shrove Tuesday,
also called
Pancake Day
. It's the day preceding
Ash Wednesday
, the first day of
Lent
. Shrove Tuesday is linked to
Easter
.
Pancakes are associated with the day preceding Lent because they were a way to use up food such as eggs, milk and sugar before the fasting season of the 40 days of Lent.
[Los "pancakes" están asociados al día previo a la Cuaresma porque era una manera de gastar alimentos como huevos, leche y azúcar antes del período de ayuno de los 40 días de la Cuaresma].
Vocabulary:
-
Shrove Tuesday
: Martes de Carnaval.
-
Ash Wednesday:
Miércoles de Ceniza.
-
Lent:
Cuaresma.
-
Easter:
Semana Santa.
In the United kingdom Shrove Tuesday is regarded as a tradition. This day is also known as Pancake Day as it is usual to eat pancakes as a dessert.
The most famous pancake race at Olney in Buckinghamshire has been held since 1445.
On Pancake Day, pancake races are held in villages and towns across the United Kingdom. The tradition is said to have originated when a housewife from Olney was so busy making pancakes that she forgot the time until she heard the church bells ringing for the service. She raced out of the house to church while still carrying her frying pan and pancake.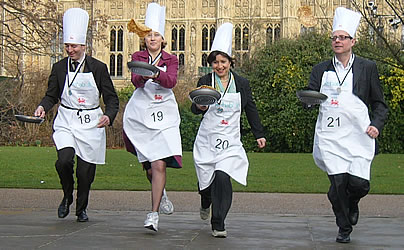 Let's make a carnival mask!